WELCOME TO WHOLESOME FOOD SHOPPING MORE CONVENIENT THAN EVER.
Philbrick's Fresh Market is a local, independent, family owned and operated food shopping experience like no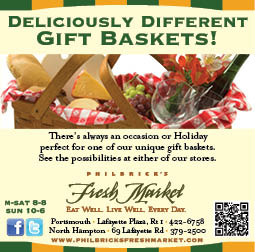 other. At Philbrick's, you'll find everything you need to make all of your meals more memorable, from the area's best selection of naturally raised meats to organic produce and hard to find specialty foods and ingredients And if there's something you don't see next time you're here, our helpful, food-loving staff will come to the rescue. Too busy to cook? Our amazing selection of restaurant-worthy prepared foods and sushi-to-go are always here for your convenience.

Please be our guest and take a closer look inside for all the delicious ingredients that make Philbrick's Fresh Market a food shopping experience like no other around.
Make your Holidays delightful with food and gifts from around the world.  Our stores are full of specialty items that will bring back memories of the past or maybe even start a new Holiday tradition.


 We Have the Right To Know


Most Americans haven't been told about some of the ingredients that are in the food they eat. So it's no wonder that 92% of Americans want to label genetically engineered foods. If more of us speak out...Click on the pic to read more.

 
Welcome to Granite Ledge Coffee
Fire Roasted and FRESH!
Located in historic Canterbury, New Hampshire, Granite Ledge Coffee specializes in producing deliciously fresh roasted specialty grade coffees.
Click on the link above or the picture to read more at their website!

Monthly Specials
Here are some of our SPECIALS in NORTH HAMPTON.
Grocery
Vita Coco  500ml  SALE PRICE 2 / $4.00      save 59c  each
Vita Coco  Coco Cafe SALE PRICE  2/ $4.00    save 79c each
Vita Coco  1 Liter   SALE PRICE  $3.99        save 90c  each
Dairy

Frozen
Amy's Asian Entrees   4 varieties   $4.19 each
Caesar's Pastas   4 varieties   $4.29 each
Dr. Praeger's Pancakes   2 varieties   $3.79 each
Health Is Wealth Mozzarella Sticks   $5.29 each
Ling Ling Potstickers and Spring Rolls   4 varieties   $4.19 each
Sophie's Vegan Seafood   3 varieties   $4.19 each
HBA
Desert Essence Hand and Body Lotions   6 varieties   $5.99 each
Jason Body Washes   4 varieties   $9.99 each
Kiss My Face Hair Care  3 shampoos / 3 conditioners   $6.00 each
Shikai Hand and Body Lotions   6 varieties   $5.99 each
Yerba Powder  $7.49 each
Yerba Whole Husks   $7.19 each


Here are some of our SPECIALS in PORTSMOUTH.
Frozen
HBA


Dairy


Grocery